Mindvalley Silva Ultramind System (Complete Review)
Let's talk about Vishen Lakhiani's new Silva Ultramind System course on Mindvalley. Because, whew was it worth it?
I really want to talk about the journey and if this program can help you look at life from a different lens.
It is a visualization course, but it encompasses so much more.
This Silva Ultra System gives you the tools to attract your goals to a different level.
Your most important resources are time and energy. And if you're not wise, you will find yourself struggling instead of flowing.
And with kids, we all know how easy it is to get caught up.
But here you are. You are looking for something different, bigger, and ways to improve your life experience.
Mindvalley Silva UltraMind System At A Glance
Some of the links below are affiliate links, meaning, at no additional cost to you, I earn a commission if you click through and make a purchase. Disclosure
Mindvalley Silva Course Pros
Silva Ultramind Cons
Key Takeaway
If you're ready to see significant benefits and changes in your life because what you've been doing isn't delivering the desired outcomes, this is for you.
My personal results from the UltraMind Course
This course helped me tap into frequencies of the human mind that I never thought was possible.
Through deep meditation and creative visualization, I increased my intuitive guidance.
I even learned how to create "coincidences" that moved my life forward in the direction I wanted it to go!
For example, the 3-part scene would discuss visualizing and feeling the problem. Then in part 3, see it resolved.
My baby was born with eczema. So, for years we have been using topical steroids. But, it seems to get worst rather than better.
It resembles eczema but doesn't act like it. We have visited every doctor you could imagine, but everyone pointed back to eczema.
See, I know from experience as a mom that our intuition is like no other. And I knew in my gut it wasn't that.
So, as the course suggested, I saw the problem and felt how much physical and mental pain it was causing her and the family.
Then within three days, by coincidence… or not, I saw a Tiktok someone explaining their missed diagnosis or eczema, which was due to (TSW ) topical steroid withdrawal, and a light bulb went off.
It was the answer I needed.
Because it was exactly what we have been going through and validates my concerns. Unfortunately, it's not something well known, not even by doctors, so help is minimal, and we are still working through it.
But I joined a support group with other moms and felt more empowered.
So, if you're looking for a way to change your life for the better, this is it.
Ready to Change
By going within, you can find the keys to your success.
Most of us are used to the hustle mentality to reach our goals which are all about striving and pushing.
The problem with this is that it's very difficult to maintain long-term.
You can only keep up the grind for so long before you hit a wall and feel completely burned out.
But how often do you have to hit burnout before trying a different approach to achieving your goals?
This is where going within comes in handy because it will help create more flow in your life. You connect to your higher self, intuition, and creative power when you go within. This will help you move mountains instead of struggling to climb them.
It's helped me move into my feminine energy and learn how to manifest from a different space.
I understand that making changes is not always easy especially when you don't know where to start.
What is the Silva Ultramind System Mindvalley?
Silva's UltraMind is a meditation-based program that helps you expand your mind using visualization and meditation techniques.
Jose Silva is the creator, and Silva Life System is the inspiration for Silva Ultramind System to awaken your mind's fullest potential.
Awaken your mind seems so cliche. But think of it as unlocking parts of your brain you never knew existed so that you couldn't access them for your benefit.
The founder of Mindvalley's Course, Vishen Lakhiani, is also the instructor of Silva Ultramind (the Silva System's replacement).
What is the Silva UltraMind Program Technique?
The Silva Techniques is an online course with pdf that teaches you how to address a problem, improve your Intuition, and heal yourself.
The program's purpose is to increase relaxation, higher brain functions, and psychic abilities such as clairvoyance.
Research indicates that certain states of mind can influence your desire in life, such as money, career success, health, happiness, or enlightenment.
And we all need more of all of this in this world climate.
What are the states of mind?
You have 5 different states of mind that give you access to different levels of consciousness.
Gamma > focus on learning something new)
Beta > alert (having a conversation)
Alpha > relaxed ( daydreaming, creativity, relaxing)
Theta > meditation ( sleep, intuition, flow state)
Delta> deep sleep ( restorative)
Understanding the process of accessing states of mind by looking at the pattern of consciousness. ( Table Below)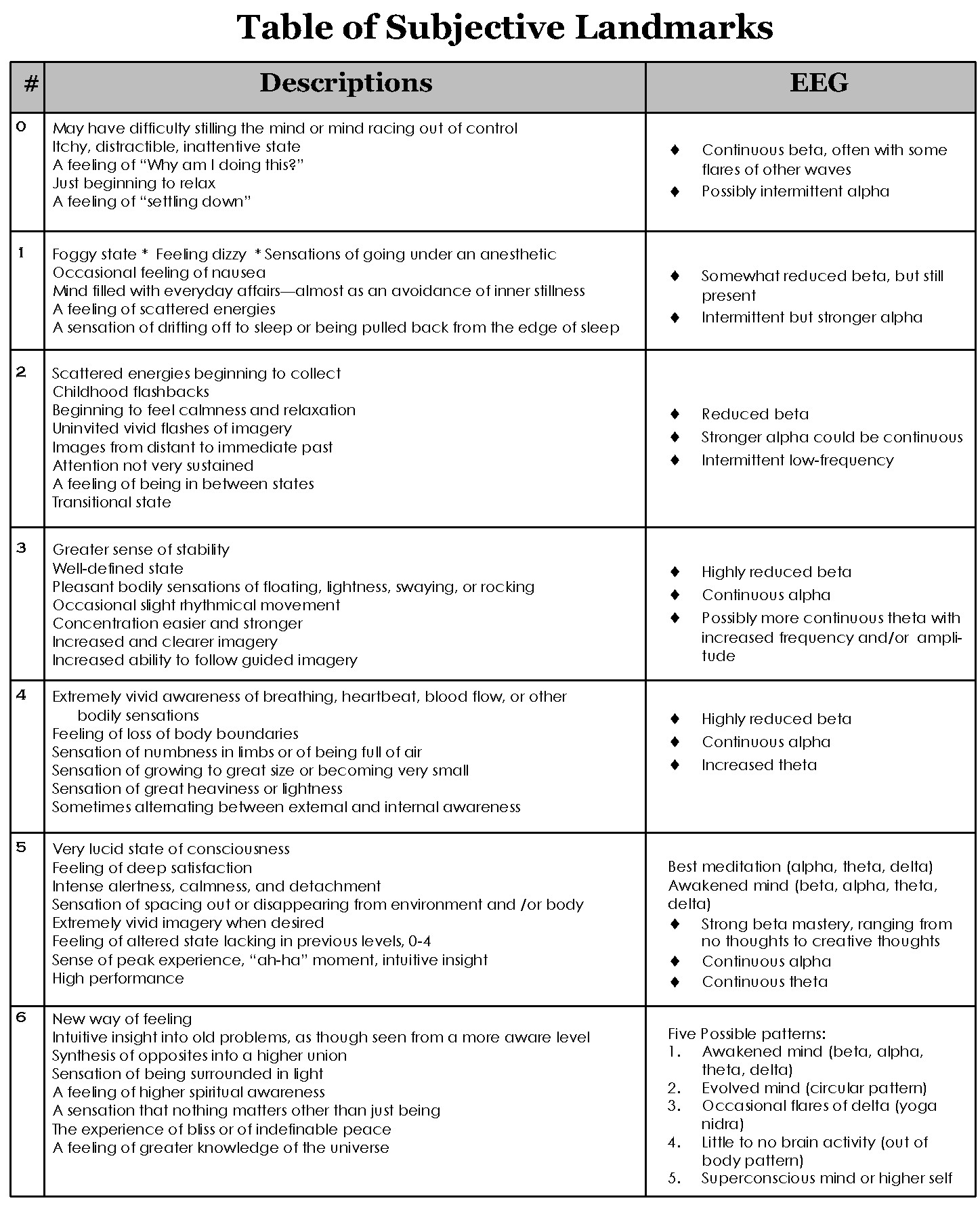 UltraSilva Mind course focuses on the Alpha and Theta brainwave frequencies which is basically just going from a normal waking state into a calmer, deeper state of meditation. The course helps you sink into this alpha state of meditation, which allows you to access more of a subconscious or superconscious state of mind. When you tap into these frequencies, you can feel calm, peaceful, inspired, and have accelerated healing.
Also, tap into your creativity, intuition, accelerated learning, and memory box.
The easy way to access these states of mind is while you are sleeping. So the goal is to learn how to access alpha and theta while awake.
And learn how can to make use of it to overcome your limitations and challenges. In order to break free from bad habits and negative thought patterns.
Just imagine the leaps you can make in life if you had control over your mindset.
What You Gain from the Silva Method System
Benefits that have been experienced by those who have taken the course include
Mindvalley Silva UltraMind Cost
There are two ways to access the course.
Individual Mindvalley Programs is $299-$399/product.
Mindvalley Membership (Unlimited access to every Mindvalley program) prices are ($99) Monthly or Yearly ($ 499).
I would choose the Mindvalley membership since you can access several courses at once for the price of one program. Also, it is ideal for those who get overwhelmed or tired of taking one type of course. So if you get bored with one course and need a break from it, you can add variety by going on another without the pressure.
It's pretty much like watching tv episodes on Netflix. You have access to everything, so you can watch two different seasons and not skip a beat.
They also offer a 15-day money-back guarantee.
You can also attend the Mindvalley Masterclass for free to see if it's a good fit for you.
How long does it take?
The Silva Ultramind System is a 28-day online program
You can go at your own pace since you can access the entire program.
Initially, I started the course with a community for a little push and accountability. I liked that the community had questions and stated their progress so you could feel apart.
But, somehow, life caused me to fall off track, and I restarted with another group a couple of weeks later.
I was not consistent because some days, I would do three days and maybe skip a few or more days. But overall, I would say it took me, a mom of 3 kiddos, about two months.
Mindvalley Silva UltraMind System behind the Scene
Here's a peek at what it's like taking the course.
The course is 11 hours broken down into bite-size pieces, each week focusing on growth in a particular area.
Week 1: Lesson with mental screen, projection, and intuition
Week 2: Understanding Theta brainwaves and psychic abilities
Week 3: Manifestation and Healing
Week 4: Delta Waves, higher guidance, and Mental Video
You will have access to short trainings, bonuses, workbooks, and a community.
Other Mindvalley Course
I have taken a few other Mindvalley courses that you may enjoy. However, if this is not for you, then you may want to check out other courses Mindvalley offers that may be a better fit for you.
Unlimited Abundance: Course from Christie Sheldon working with energy to eliminate energy blocks, raise their vibrations, and manifest ideal realities. >> Learn More

Conscious Parenting Mastery by Dr. Shefali Tsabary >> Learn More
Who is Silva UltraMind System right for?
If you're ready to see significant benefits and changes in your life because what you've been doing isn't delivering the outcomes you desire, this is for you.
If you want to improve any aspect of your life, the answer is yes!
I recommend this course to anyone who wants to feel more empowered and in control of their lives. #spiritualawaken
It has helped me in so many ways, and I know it can do the same for you.
Those who may be reserved or not a good fit
If you think it won't work, then it won't. I am a firm believer in whether "what you think "can be true or not. So don't bother and find something easier to align yourself with

I can understand the skepticism since the site feels like it's overpromising its results and very woo-woo. So check out Mindvalley's youtube, Mindvalley blog, and podcast like I did to see how it feels to you.

If you have difficulty using your not-so-logical brain, this may not be for you. However, I can understand since everything is science-based, and it's hard to change that.
Conclusion: The Silva Ultramind System Review
Mindvalley Ultramind is an amazing course that helps you tap into frequencies of the human mind that you never thought were possible. Through deep meditation and creative visualization, you can increase your intuitive guidance. You may even learn how to create "coincidences" that move your life forward in the direction you want it to go!
Learn more about the course >> Silva UltraMind Systems
Access the free masterclasses to learn more >> Mastering Altered States for problem-solving & performance
I hope this review has helped you in some way. If you have any questions, please feel free to leave them in the comments below, and I will get back to you as soon as possible. Thanks for reading!